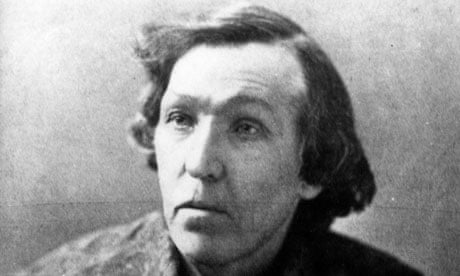 Sir William Topaz McGonagall (1825 - 1902)
The nineteenth century Scottish poet William McGonagall was known as "The world's worst poet" with formidable justification. Many of his poems are still very popular and there is a website devoted to his works. There were autobiographies and some anthologies were published. One of the autobiographies begins thus:
"My Dear Readers of this autobiography, which I am the author of, I beg leave to inform you that I was born in Edinburgh". That book, which sets the standard for what is to follow, was inscribed by the author as "Dedicated to himself, knowing none greater."
The fact that McGonagall has long since departed this life makes me feel a little less cruel at laughing/groaning at his work - but it can be hilarious! He was a contemporary of Queen Victoria and she greatly admired him.
This little snippet from A Tale of Christmas Eve will demonstrate his hopeless ignorance of metre:
'Twas Christmastide in Germany,

And in the city of Berlin, which is most beautiful to the eye:

A poor boy was heard calling out to passers-by.




"Who'll buy my pretty figures," loudly he did cry,

Plaster of Paris figures, but no one inclined to buy;

His clothes were thin and he was nearly frozen with cold,

And wholly starving with hunger, a pitiful sight to behold.
This next gem is the opening two stanzas of Beautiful Torquay. Torquay is a resort on England's south coast.
All ye lovers of the picturesque, away

To beautiful Torquay and spend a holiday

'Tis health for invalids for to go there

To view the beautiful scenery and inhale the fragrant air,

Especially in the winter and spring-time of the year,




When the weather is not too hot, but is balmy and clear.

Torquay lies in a very deep and well-sheltered spot,

And at first sight by strangers it won't be forgot;

'Tis said to be the mildest place in ah England,

And surrounded by lofty hills most beautiful and grand.
His most famous poem is The Tay Bridge Disaster. The dreadful events of 28th December 1879 somehow made McGonagall famous after his poem was published. I have resisted showing all of the piece but, should you feel strangely drawn, mcgonagall-online.org.uk shows all of his works. Here's how it starts:
Beautiful Railway Bridge of the Silv'ry Tay!

Alas! I am very sorry to say

That ninety lives have been taken away

On the last Sabbath day of 1879,

Which will be remember'd for a very long time.




'Twas about seven o'clock at night,

And the wind it blew with all its might,

And the rain came pouring down,

And the dark clouds seem'd to frown,

And the Demon of the air seem'd to say-

"I'll blow down the Bridge of Tay."
The thing that makes McGonagall totally ridiculous is his belief that he really was a great poet. He was self-styled as a "poet and tragedian". He loved giving recitals and failed to be put off by much contemporary mockery and derision but the odd thing is that most parodies of his poems fall flat; they just aren't bad enough!
And it's not as if we have only recently discovered how bad he was; his audiences threw rotten fish at him! Rather sadly he died the death of a pauper and ironically his books are all still in print.
I am listening to some early Elvis Presley recordings. Currently The Girl of My Best Friend is playing. It was recorded 4th April 1960. Listen here for a treat!